Brass studs
Price 1pcs. stud &nbsp 6mm: 0,30zł net (0,37zł gross)
&nbsp stud 10mm: 0,30zł net (0,37zł gross)
stud 16mm: 0,41zł net (0,50zł gross)
stud 22mm: 0,98zł net (1,20zł gross)







Studs are made of brass, available in diameters 6mm, 10mm, 16mm or 22mm. Studs can be made of brass (in gold color) or for special order nickel silver alloy (in silver color), both of them can be soldered easly so it yield very strong and durable decoration. For bigger quantity a discount is possible.
Straps and belts made of natural veg tanned leather
Sample prices length. 1,0m, leather thickness 1.8-2.0mm
strap wide 5mm: &nbsp &nbsp 1,63złzł net (2,00zł gross)
strap 10mm wide:&nbsp &nbsp 5,08zł net (6,25zł gross)
strap 20mm wide: 10,16zł net (12,50zł gross)
strap 30mm wide: 14,23zł net (17,50zł gross)
strap 40mm wide: 17,89zł net (22,00zł gross)
Leather thickness 2.2-2.5mm +40%, Leather thickness 3.0-4.0mm +80%.
Brass rings for Cracow belt
Price pcs.: 3,25zł net (4,00zł gross)

Brass rings for Cracow belt, made of 0.8mm thisk brass sheet, it is strength and sound loudly. It can use a brass cleaner or polish when darken with time. Diameter 45mm.
Cracow Lajkonik
Price: zł net (zł gross)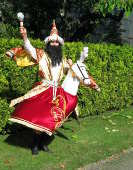 Lajkonik - traditional funny horse. Lajkonik is one of the unofficial symbols of the city of Kraków. I make Lajkonik with all necessary costume, as in the picture. A head of the Lajkonik is removable using a screw so its transportation is easy. By using special materials and smart construction Lajkonik is very light and durable, it gives huge comfort of use. Lajkonik shown in the photo fits (with the entire costume) into a handy wheels bag with dimensions of 40x45x85cm. For a special order you can magnify the body of a horse, select colors and adapt it to an individual needs.
Knights
Baldric: 150zł net (184,50zł gross)
Stamped leather belt: 100zł net (123,00zł gross)
Medival belts with stamped patterns, waist belts form mediwal swords or saber, decorated knife sheath.